Seth Macfarlane Net Worth: Seth Macfarlane is an American actor, producer, director, writer, comedian and singer. He is best known for creating animated television shows Family Guy and American Dad. Let's find out Seth Macfarlane net worth, age, family, career and other news.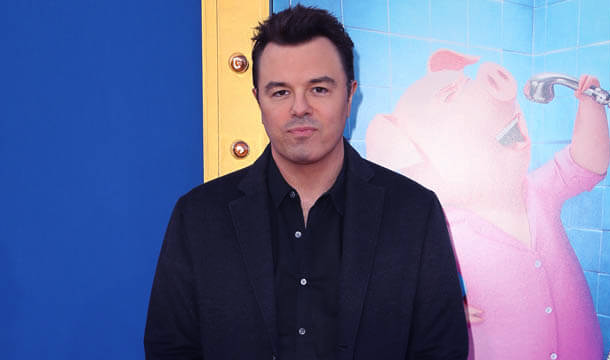 | Real Name | Seth Macfarlane |
| --- | --- |
| Parents | Ronald Milton MacFarlane & Ann Perry |
| Date of Birth | October 26, 1973 (Age 44) |
| Birth Place | Kent, Connecticut, USA |
| Education | Kent School, Rhode Island School of Design |
| Occupation | Actor, Animator, Writer, Director, Producer, Comedian |
| Years Active | 1995-Present |
| Nationality | United States of America |
| Height | 5 feet 10 inch |
| Ethnicity | Scottish, English, Welsh |
| Marital Stratus | Single |
| Girlfriend | Unknown |
| Children | None |
| TV Series | Family Guy, American dad, The Cleveland Show |
| Album | Music Is Better Than Words (2011), Holiday for Swing (2014), No One Ever Tells You (2015), In Full Swing (2017) |
| Net Worth | $250 million |
| Income Source | Animated Series, Film |
How much is Seth Macfarlane Net Worth?
The creator of the family guy has built an empire through his animated comedy, and his wealth may be worth a lot more than you think. According to the CelebrityNetWorth site, Seth Macfarlane has an estimated net worth of $250 million.
Seth Macfarlane's creation Family guy, has spun off American Dad and The Cleveland Show, all three shows were blockbuster hit for a major network television channel. He is also wrote, directed and produced feature films like Ted and Ted 2 as well as a science show called Cosmos: A Spacetime Odyssey. 
His 2012 film "Ted" which grossed over 500 million and 2015 feature film "Ted 2" which grossed just under $200 million at the worldwide box office.
Macfarlane's fortunes rose to success with his "Family Guy" which debuted on Fox in 1999. Although the show is big hit now-days, but Fox actually canceled Family Guy in 2001 after the network was disappointed with its ratings. However, the show earned huge DVD sales and by 2015 the Family Guy was brought back on for good. From 2005 to 2008, Macfarlane earned $2 million per year for his show-running duties. It even got bigger when he landed a five-year $100 million deal with Fox in 2009. And the salary was without DVD or Merchandise rights, so you can add extra $20 million with the deals.
Recently, Macfarlane has started appearing non-animated roles like being an executive producer of Cosmos: A Spacetime Odyssey, writer and director of 'Ted' its sequel 'Ted 2′, 'A Million Ways to Die in the West', and even a music career.
He has released four studio album as of 2018. With so many project it's no wonder he's one of the richest people in the Hollywood.
What is Seth Macfarlane Age?
Seth Woodbury MacFarlane was born on October 26, 1973 in Kent, Connecticut, USA. He is currently 44 years old.
Early Life & Education
Seth Macfarlane developed his love in illustration when he was just a two years old kid. He began drawing cartoon characters Fred Flintstone and Woody Woodpecker as a kid. However, he found his talent in animation at the age of five when he started creating flip books. At the age of nine, Macfarlane started earning $5 per week for publishing a weekly comic strip titled "Walter Crouton" for a Kent's local Newspaper.
In 1991, Seth Macfarlane earned a high school diploma from Kent School. While studying, he continued his experiment with animation, and his parents gave him an 8 mm camera. He then went on to study film and animation at the Rhode Island School of Design, where he received a Bachelor of Fine Arts Degree.
Seth Macfarlane Family/ Girlfriend
Seth Macfarlane is single. He has had a relationship with Game of Thrones star Emilia Clarke. But the couples broke up their 6-month relationship and remained good friends.
In 2010, Seth Macfarlane lost his mother, Ann Perry Sager, who was suffering with cancer.